They say extra air time helped Donald Trump score the presidency, and that's exactly what one Florida radio station owner is hoping will happen again.
Three Panhandle radio stations will broadcast the president's speeches for at least two minutes of every hour until the end of the 2020 presidential election, the stations' owner said.
"We ran it by a bunch of listeners and people in the area, and nobody's upset about it. It's Republican territory," owner Samuel Rogatinsky told the Orlando Sentinel on Monday. "Nobody's offended by it. It's not an issue."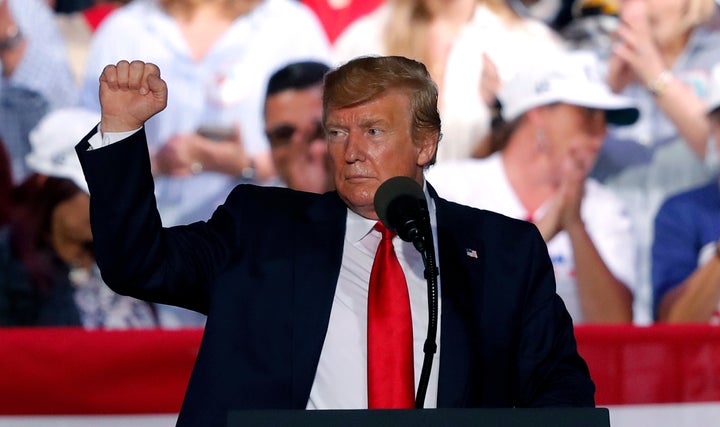 The three stations ― adult hits station Bob FM on 105.1 WASJ, country music station Kick'n Country on 103.5 WKNK and classic rock station 95.9 WRBA ― are all operated by Gulf Coast Media Inc., a new company that covers Bay County, Florida. Seventy-one percent of voters in Bay County voted for Trump in the 2016 election.
This area was last year devastated by the Hurricane Michael, a Category 5 storm that caused an estimated $25 billion in damage. Large areas of the region are still struggling to recover.
Trump last week visited the area and vowed during a rally for his re-election to pump up federal aid to the region.
"We've already given you billions and billions of dollars and there's a lot more coming," Trump told a crowd gathered in Panama City Beach on Wednesday. The Panhandle has received about $1.1 billion in federal disaster aid through mid-April, according to the Federal Emergency Management Agency.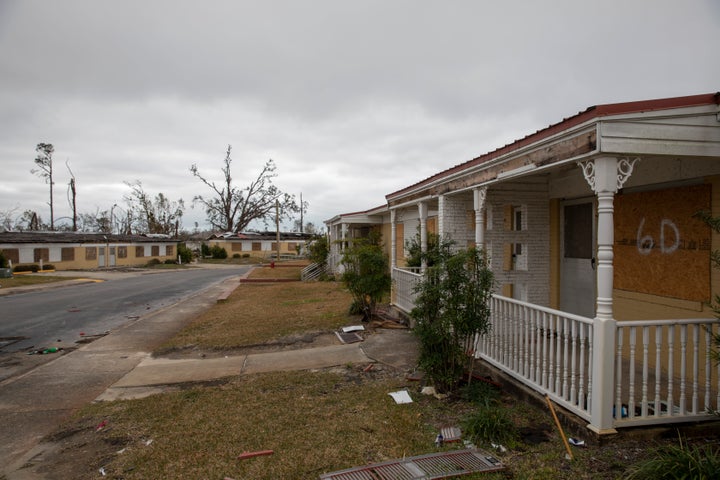 Bay County, which has an annual budget of $340 million, meanwhile is still waiting to be reimbursed for $250 million in loans that were used to cover debris removal alone, the Tampa Bay Times reported last week.
Gulf Coast Media, in a statement announcing its plans, credited Trump's recent vow to boost emergency aid for its decision to broadcast his speeches.
"Gulf Coast Media, Inc. senior management acknowledged that broadcasting the President's speeches may not be consistent with conventional commercial FM radio, but we have taken this approach to show the community's sincere appreciation for President Donald Trump's work in Panama City and Bay County," the company said.
It's not clear whether the hourly radio broadcasts will continue if Trump doesn't live up to his word.
To comply with Federal Communications Commission equal time rules, the stations would allow comparable air time for any other 2020 candidates who request it, Rogatinsky told MSNBC.
Trump got $4.96 billion in free earned media in the year leading up to the 2016 election, according to data from tracking firm mediaQuant. His total throughout the 2016 campaign ― $5.6 billion ― was more than Hillary Clinton, Bernie Sanders, Ted Cruz, Paul Ryan and Marco Rubio combined.
Trump has faced uproar over false claims of relief aid sent to Puerto Rico, which is struggling to recover from 2017′s back-to-back hurricanes Irma and Maria. He has repeatedly said that $91 billion has been sent to the U.S. territory; however, it has been allocated less than half of that amount.
House Democrats have offered a $17.2 billion disaster aid package but it would be used to address multiple recent natural disasters in the U.S.
Rogatinsky, who has a law office in Fort Lauderdale, did not immediately respond to requests for comment.
REAL LIFE. REAL NEWS. REAL VOICES.
Help us tell more of the stories that matter from voices that too often remain unheard.